Movie Mania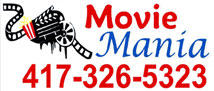 Located in the Vineyard Square between Mid Missouri Bank and Aldi, we are a locally owned, family business here to serve you with your movie renting needs. We have some new releases 28 days before Redbox & Netflix. New releases are $3.00 for 3 nights; older releases $2 for 3 nights. Come see us!
Photo Gallery
Click on a photo below to enlarge and begin slideshow.
Large slideshows may take a minute to load.