Conner Service Company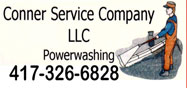 Locally Owned Business with more than 10 years of experience. We powerwash: homes, businesses, large equipment, parking lots, vinyl fences, and much more. Give us a call for a free estimate and fair prices.
Photo Gallery
Click on a photo below to enlarge and begin slideshow.
Large slideshows may take a minute to load.